Sorry I've been radio silent for the last couple of months. So many changes are a foot! I've been working on creating more consistency in my business and it has been an awe-inspiring, eye-opening, crazy ride.
In January of this year (yeah, 6 months ago) I realized I needed to start re-aligning my business with who I was right now.  You see, in January I got a big sign to slow down from the universe (one I could NOT ignore) and found myself re-evaluating what I really loved doing + what wasn't really working for me anymore.  I didn't really resonate with some of my message, my programs felt a bit off, and I was really working hard to bring in business that wasn't super fun anymore.  Needless to say, I was getting totally bummed!
So, with a bit of soul searching (and a really aligned business coach who got me) I started re-inventing my business to align with the core of who I was and how I wanted to connect and support you.
The one big thing I figured out is that all of us want to level up our business no matter where we are in our business journey. Each in our own way, we all want to grow and move forward in a positive direction that will help us to expand, help more people + naturally make more money, right?
It's all about alignment: being in the right place at the right time.
So the question is: how can we do business in a way that feels easy, graceful and like a natural flow for us?  A way that doesn't feel like we're swimming up hill?  How do we grow without losing our balance and compromising what we love most which is often why we got into business to begin with.
How do we find our alignment?
As service-based business owners, we are all on what I call an entrepreneurial journey or your business journey, which is a natural growing cycle that takes you through different phases as you level up. It can kind of feel like you're starting over sometimes but really you're cycling through to your beginning again just at a different or higher level then you were before. It can feel frustrating at times, but you've learned so much about yourself + your business that you have wisdom to draw from.  That's what helps you grow + keep moving forward with momentum even in the darkest times.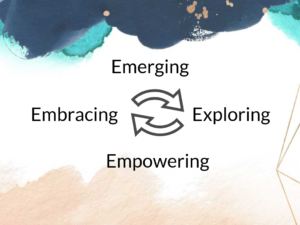 There are 4 different cycles that I've identified: Emerging, Exploring, Expanding + Embracing. Each has it's challenges and gifts, and the key to moving through them with some grace is understanding how to be present to where you are in the now and working with your own soul self to align the process.
Being present to where you are in the now is key to aligning your work with your soul self!
The first step in your cycle is Emerging: this is your beginning of a new cycle or shift. It feels like you are stepping into something new like an awareness practice or process. Often it starts with something you are pulled to do that is new, has been sitting on the fringes of your awareness or on your "Someday" list.  The difference is that now it feels like a constant and strong pull, like when your mind wonders this topic or idea pops up often.  It feels light, fun and even exciting before you get caught up in the details that can feel a bit daunting or overwhelming.  Deep breaths. Ask your higher guidance system for ideas to make this as smooth, simple and easy as possible. And watch for an answer. It always comes (even though it might not come as you think it should.)
Next step is the exploring stage: which often is trying things out, often experimenting with things you are pulled to do. It's like "hey, why not? let's try it!" Often what works for someone else might or might not work for you.  Either way, you'll have to modify what you try to work perfectly for you so expect to tweak what you try out.   Our business's are as unique as we are and customizing our processes is just part of the game.  That's why no business is one size fits all!
Then you move into the empowering stage: This stage is where you're like "hello, this is actually kind of working!" Certain tactics you try will feel good + easy for you.  One challenge I have found is that sometimes it's hard to let go of the other things that aren't serving you.  What you end up with is something that is smoothing out, streamlined + simplified. 
The last stage is embracing: Embracing is tweaking what's working, but also is a lot more focused + a lot more energy goes into specific things. The trick to moving through this level is to really embrace that this is how you work,  this is what you do best, and this is your unique way to get you the results you really want in this moment.  Embracing is all about focus of energy on YOUR aligned path and letting go of any distractions because what you focus on is what you create, right?
So when I started my business journey in January, I found myself moving through the emerging stage, realizing it was time for me to shift how I was running my programs + approaching my business.  I was being pulled to revamp some of my past offerings + re-purposing some earlier content to be more in alignment with who I am now.  Wow, I really created a lot of content in these few months. 
Then in March, I started the exploring stage or testing, trial + error.  I was evolving my business to another level and I was looking to figure out how to really simplify + streamline what I was doing. The step is all about figuring out what works and feels right. 
So now, I am in the empowering stage.  It's all about letting go of what doesn't serve you focusing on what does.  I'm putting all of my energy into that to see what the outcome is because you can always tweak along the way.  Have you heard the adage of "building the airplane while you fly it "?
A lot of the time, especially when you are creating something, you don't know if it works until you're building it and sharing it.  Only then will you know if it really delivers what you feel like it should.  Once everything is flowing for you and you're getting a good response, be patient.  It might take a couple weeks to get some good momentum but you're still getting a good response and people are buying what you're selling! 
So looking at your business, what phase are you?  That will tell you what you need to be focusing on in your daily business.  I have quite a few clients who are in the exploratory stage. They know what they want to offer, but they might not know exactly how to start putting the pieces in place to make it real.  
That's where I come in.
It's why I created my 30-day "Get it aligned" + working program.  My whole purpose is to help you be you in your business systems + processes.  It can help you with a laser focus on specific things + get the coaching support you need for where you are right now. At some point, we all need to see what works and what doesn't, right? And we all need somebody in their corner.
So, I invite you to think about where you are in your business and if you'd like, post where you are in your current journey cycle in our Facebook group community.
I'm excited to hear from you and where you are on your journey.
With Grace + Ease,